An appointment has been scheduled and forms are assigned. Here's how your patients fill out those forms.
Jump to:
---
Once forms have been assigned to a patient by scheduling an appointment, patients will have the option to fill them out online prior to their visit or fill them out in the office on your iPad. If a patient does not complete forms before their scheduled appointment they can fill them out electronically once they arrive. Don't worry, when you hand the iPad to your patients to complete their forms the UnifiedPractice app locks so all they can see and do is fill out their forms.

If you have your Confirmation and Reminder emails enabled (Clinic Settings > Scheduling Settings), patients will click the Manage my Appointment button within those emails to access their forms.
They will be redirected to a landing page where they can see information about their appointment, cancel or reschedule, and fill out their forms. Patients will click one of two options to initiate the onboarding workflow: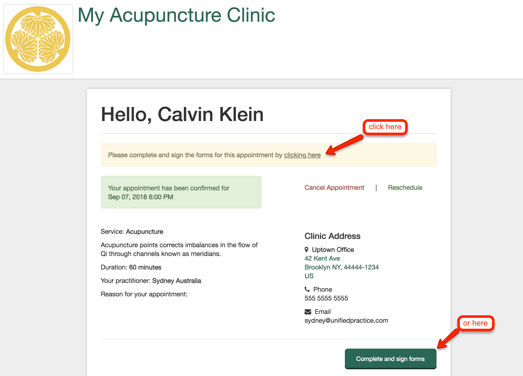 ---
Watch the demo videos below to see the Onboarding Process from the patient's perspective:



From the iPad app

---

The entire Onboarding process from the Desktop:


---
If you clinic is using the Patient Portal, click here for more information on this process for your clinic and patients.